Costa Rica Coffee Set
Three coffees from Costa Rica's boundary pushers
LIMITED RELEASE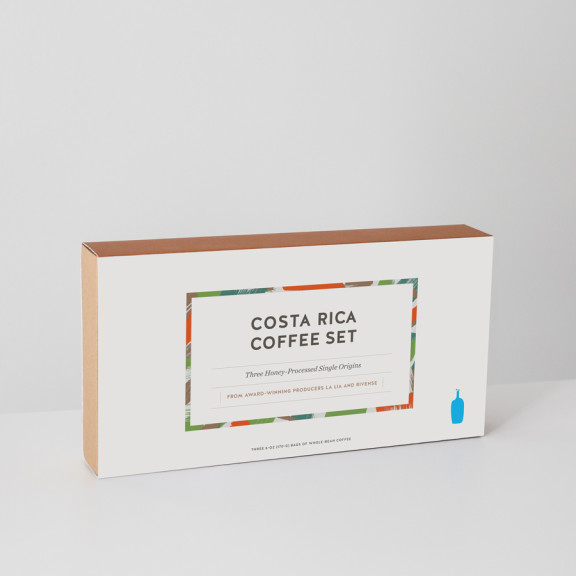 About This Item
In recent years, Costa Rica's coffees have gone from likable to head-turning. The best coffee farmers there are artisans as much as agronomists. Three extraordinary single origins achieve new heights in the craft of coffee. Each one is an example of honey processing—a technique to transform the coffee cherry into dried beans. By controlling the amount of fruit that remains on the beans while drying, a farmer influences the coffee's final taste.
From a white honey, where most of the cherry was scrubbed from the seed, to a black honey, where most of it remains intact, these three single origins showcase honey processing's kaleidoscopic effects.
Costa Rica Tarrazú La Lia
White Honey Process
Notes of cherry, lemon, and caramel
Costa Rica Chirripó Rivense Black Honey
Black Honey Process
Notes of nectarine, lemon zest, and guava
Costa Rica Chirripó Rivense Desafio Honey
Experimental Black Honey Process
Notes of blackberry jam, maple, and nougat
We are proud to support
World Coffee Research
through a portion of the proceeds of this coffee set. Your purchase contributes to the vital research unlocking how coffee can deliver value to farmers through higher quality and more sustainable livelihoods. With field trials in Costa Rica and over 15 other countries, WCR is building the next generation of coffee varieties to offer peak performance. Learn more about Costa Rica's micromills on our
blog.
Details
Set contains three 6-ounce bags of whole-bean coffee.
Roasts and ships Tuesdays and Thursdays only.
Notes